YES! GroundSchool features ACTUAL QUESTIONS (current for 2017 - 2018 and continuously updated) that you will see when you go to take your FAA written exam and is fully compatible with and will be regularly updated for changes to the evolving FAA Airman Certification Standards (ACS).

Learn more about how our GroundSchool programs and apps feature superior learning content that leads to better study, testing, and learning outcomes.
We work continuously to ensure that the content is as up to date as possible. Have questions about this software? Please Contact us via our helpdesk.

2017
2018
You can be a pilot!
With a minimum of time and cost, YOU can ACE your FAA Private Pilot knowledge (written) test using our GroundSchool software and apps.
GroundSchool features up-to-date, actual FAA questions and FAA-emulating questions. Our answers and explanations are written by highly experienced flight instructors and professional pilots. [Learn More]
The sooner you pass your knowledge test, the more prepared you will be for and the more you can concentrate on flying. Our materials features the best, most illustrated explanations of any FAA test prep product, period to really help you learn the material well.
All required charts and figures are included.
Haven't flown yet? Study using GroundSchool and become able to pass the knowledge test on the first day you show up for flight training. You will be sure to impress your instructor with your enthusiasm and save money in the long run. [Read more about the knowledge test]
GroundSchool costs about the same as books do, but is significantly more time efficient. Sure, DVD/Video sets may look pretty, but many find them inefficient timewise. Our software and apps work on YOUR pace at significantly lesser cost.

Don't fear the examiner!

A high score on the written test will help you impress the examiner during your checkride (flight test), but doing well on the oral exam portion of your checkride will impress him/her more. Study for your written exam with our GroundSchool software and apps (below), but also prepare for your Oral Exam with our RideReady checkride oral exam prep. Starting early with RideReady is a plus, since it really goes a long way towards teaching you more complex scenario, judgment, and systems type questions that you will likely experience during your training and oral exam compared to the relatively straightforward written exam questions.
There is ABSOLUTELY NO NEED to purchase a $200+ home video/DVD course to prepare you for an FAA written test. GroundSchool does the same thing in a more time efficient and less expensive way. Spending more money won't make you smarter - only poorer! Our GroundSchool is all that you need to learn the material and pass your FAA written test.
Our GroundSchool - FAA Private Pilot apps will help you prepare for any or all of the following tests:
PAR - Private Pilot Airplane
PRG - Private Pilot Rotorcraft Gyroplane
PAT - Private Pilot Airplane / Recreational Pilot - Transition
PRH - Private Pilot Rotorcraft Helicopter
PBG - Private Pilot Balloon - Gas
RPA - Recreational Pilot Airplane
PBH - Private Pilot Balloon - Hot Air
RPG - Recreational Pilot Gyroplane
PGL - Private Pilot Glider
RPH - Recreational Pilot Helicopter
PGT - Private Pilot Gyroplane / Recreational Pilot - Transition
PPP - Private Pilot Powered Parachute
PHT - Private Pilot Helicopter / Rec. Pilot Transition
PWS - Private Pilot Weight Shift Control
PLA - Private Pilot Lighter-Than-Air (Airship)
Canadian Private Pilot to USA FAA Conversion [about]
Download / Get the Apps!


The links below are for the 2017 - 2018 versions of our award-winning FAA test prep software and apps. They're updated regularly throughout the year to be as fresh as possible. If you're not ready to take your test just yet, we've got you covered; all of our GroundSchool apps feature free lifetime updates for both the question banks and the apps themselves.
Why are are downloads so large? - A slightly longer download yes, but a much better product. Click here to find out why.
Title

Download

Buy Now

GroundSchool - Private and Recreational Pilot
for Microsoft Windows™ PCs Installation Guide Usage Walkthrough
(includes Airplane, Helicopter, Glider, Balloon, etc.)

buy now

GroundSchool - All FAA Written Test Titles
for Microsoft Windows™ PCs Installation Guide Usage Walkthrough
This single large download includes all of our FAA knowledge test prep titles - Private through FE/ATP + Mechanic [More Info].

buy now

GroundSchool - Private and Recreational Pilot
for Apple Mac™
(includes Airplane, Helicopter, Glider, Balloon, etc.)

GroundSchool - Private and Recreational Pilot
for iPhone™ and iPad™
(includes Airplane, Helicopter, Glider, Balloon, etc.)

GroundSchool - Private and Recreational Pilot
for Android™
(includes Airplane, Helicopter, Glider, Balloon, etc.)

GroundSchool - Private and Recreational Pilot


Audio Presentation


In MP3 format for your iPod™ / music player or to burn to CD and listen to in the car and elsewhere.
Having difficulty? Please let us know - we're here to help!
Click here for help with downloading / installing more than one test bank (or a "bundle") at a time.
We believe (and scientific study validates) that the interactive activity of test preparation, when combined with the sort of detailed supplementary and explanatory material that we offer, is an excellent way to thoroughly learn and internalize key aviation information.
We are test prep specialists and the experience of thousands upon thousands of pilots proves that our method works. We do not use test prep as a "hook", as some of our advertising-based competitors do, to sell you expensive but ineffective passive video-based courses and similar products that do little besides waste your time and drain your wallet.
Use our material and study hard - not just the questions and answers, but the reasoning and explanations too, and be on your way, in a highly time and cost efficient way, to knowledge test and aviation success!


This software has a really cool feature. After you complete a study session, you can, choose to report your progress to our TestPrepStatus.com system where you will be able to see charts of your study progress so that you can identity your weak points.
The really cool thing, however, is that you can also invite your instructor (CFI, flight school, mechanic school, mentor, parent, study partner, etc) to log in and monitor your progress. This is neat because now you can prove to your instructor in a concrete way now your study is progressing.
Access to the TestPrepStatus.com system is completely free for you and your instructor! Only GroundSchool has this innovative system.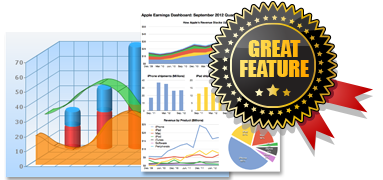 Meet some of our Editorial Team
"T" Cirincione
"T" Cirincione is a captain for a Fortune 50 company flying Citation X and Learjet 60's. He has 23+ years of aviation experience and holds the following ratings: ATP, Gold Seal CFI, CFII, MEI, FE – Turbojet, and A&P. He has a Master of Science in Aeronautical Science, a Bachelor of Science in Aviation Management, and an Associate of Science in Aircraft Maintenance Technology. His has taught A&P students for Embry-Riddle Aeronautical University, and Learjet 60 initial and recurrent classes for FlightSafety International. Prior to that, T was a Flight Examiner in the US Air Force, and an instructor at the USAF Fighter Weapons School flying the mighty F-4 Phantom. He has over 4000 hours in fighters and corporate aircraft. When not immersed in aviation, T enjoys fly-fishing, bow hunting, and 4-wheelin' his Jeep.
Greg Reverdiau
Greg is an FAA certified Flight Instructor (CFI, CFII) and Commercial Single and Multi Engine, Instrument pilot. He is currently located in Melbourne, FL but originally grew up in Dijon, France. He gradued from Florida Tech with a Bachelor degree in Aeronautical Science and is currently pursuing a Masters Degree in Aviation Human Factors. He's a Flight Operations Administration Supervisor and also loves to take pictures and develop websites.

Danny Aslinger
Danny grew up in Ketchikan, Alaska where, after watching thousands of seaplanes take-off and land, grew interested in aviation. With the encouragement of his parents, sisters, and most recently his wife Jessica, Danny began pursuing his dream of flying in 1998 while attending college at the University of Idaho. He is a commercially rated pilot and also a certified flight instructor with instrument instruction privileges. In addition to his flight experience, Danny has an extensive teaching background from guiding and teaching sea kayaking in Alaska and Idaho, a job which he began when he was 15 years old.
Denis Khripkov
Denis is a corporate captain with significant experience Cessna, Dassault Falcon, and now, elite Gulfstream IV/V aircraft. Previously, Denis has flown a Yak 42 regional jet for Aeroflot. Denis also has several thousands of hours of small plane experience as a CFI/I and aerial inspection pilot. When not flying, Denis spends his time overwatering his garden and playing with his young children.
Bill Hughes
Bill is now one of the most prominent and experienced Hot Air Balloon pilots in the USA. However, his aviation experience is far deeper: Bill is a former US Navy pilot who has over 9,000 hours of flight experience in everything from jets to helicopters. He has served as an FAA Designated Pilot Examiner and Safety Counselor. He was a crewmember for Malcolm Forbes' balloon flight across America in 1973. Each year he acts as Balloonmeister* for several balloon events and last year celebrated his 22nd year as Balloonmeister for the Adirondack Balloon Festival in Glens Falls, NY.
| | is .... |
| --- | --- |

GroundSchool is designed to help you learn the material and score highly on your test in the most efficient manner possible. Our software represents years of listening to and understanding the needs of pilots and mechanics. The program is designed with the singular goal of helping you learn the material so you can pass your FAA written test with a minimum of time and effort. Sure, there are some study methods that are cheaper (and many far more expensive!).. but only if your time is worth nothing.. Our software is fast, efficient, and proven.
Here are a few screenshots from the software:

With our FAA Written Test Prep software, you don't have to worry about having an out of date version. Our authors work to update the data as FAA question pools change. Groundschool has a built-in self-update feature that connects to our servers and makes sure that you have the latest and greatest versions of the software and data soon after they becomes available.
Additionally, the self-update can be used to install new test data (such as Instrument Rating on top of Private Pilot) so you can have it when and where you need it.

"I Passed the IFR (Airplane) and Flight Instructor Instruments tests in the same afternoon after using your apps! I think your apps are very good. There was a guy next to me at the CATS testing center that failed after using She**** A**. ... I think the intuitiveness of your apps is superb. ... Thanks for the help, I'll be using this for my commercial as well! "
- JT - GroundSchool User.
"I wanted to express my gratitude for the FAA Ground School Test Prep Software. The features are outstanding with regard to knowledge reinforcement, cross referencing, concentrating on weak points, and ease of use. Even if you have one of the other home study courses you still need this program."
- DM - GroundSchool User.
"I took my test yesterday, and scored 97%. I hd K***'s DVD set and an A** book too. None of them hit the mark in terms of meeting my needs as much as your app did. I was able to load the app on my work laptop, and take practice tests everywhere: in airports, in-flight (in scheduled airlines), long meetings. It really helped that I could save my tests, and could review the questions I got wrong later. Being able to search for questions ... was very valuable in keeping me efficient and focused. You should all be proud of having created something so useful, so well thought out! "
- DM - GroundSchool User.
A "test bank" contains one or more tests. For example, the "Private and Recreational Pilot" test bank will contain the Private Pilot Airplane, Private Pilot Helicopter, and other tests. You'll be able to see the exact tests in each of the test banks in the screens to follow. Here are the available GroundSchool test banks:
| | | | | | |
| --- | --- | --- | --- | --- | --- |
| | Private and Recreational Pilot | | Airline Transport Pilot (ATP) | | Aviation Mechanic (General) |
| | Instrument Rating (IFR) | | Flight Engineer | | Aviation Mechanic (Airframe) |
| | Commercial Pilot | | Sport Pilot (General) | | Aviation Mechanic (Powerplant) |
| | Flight and Ground Instructor | | Sport Pilot (Instructor & Examiner) | | Parachute Rigger |
| | | | Remote Drone (sUAS) Pilot | | |
Get GroundSchool for MS-Windows PCs (via instant email delivery of an activation keycode) by clicking one of the 'Buy Now' buttons at below right.
For other platforms, such as iPhone/iPad, Android, or Mac, click on one of the buttons above.

The titles below are for MS-Windows PCs - Instant Activation Keycode Delivery via E-Mail

| | | |
| --- | --- | --- |
| | Unlimited use of the program to help you prepare for for tests in any one of the above pilot, A&P, or drone test banks. | |

Unlock any three pilot or mechanic test banks. You can choose ANY combination of 3 of the test banks shown above, including:

IFR/Commercial/CFI
Mechanic General/Airframe/Powerplant
CFI/FE/ATP
etc.

| | | |
| --- | --- | --- |
| | | Sport Pilot Bundle |

For those looking to really make the most of the world of light sport piloting! Includes the following two test banks + FOI:

Sport Pilot
Sport Pilot Instructor and Examiner
Fundamentals of Instruction

| | | |
| --- | --- | --- |
| | | Takeoff Bundle |

For the serious and committed pilot! Includes all of the following test banks:

Private and Recreational Pilot
Instrument Rating (including Instrument Flight Instructor - CFII)
Commercial Pilot
Flight Instructor (including Ground Instructor and Fundamentals of Instruction)

| | | |
| --- | --- | --- |
| | | Takeoff Bundle + Sport Pilot Bundle |

For the serious and committed pilot who may also want to operate in the Light Sport Pilot realm. Includes all of the following test banks:

Private and Recreational Pilot
Instrument Rating (including Instrument Flight Instructor - CFII)
Commercial Pilot
Flight Instructor (including Ground Instructor and Fundamentals of Instruction)
Sport Pilot
Sport Pilot Instructor and Examiner

| | | |
| --- | --- | --- |
| | | FlightLevel Bundle |

For already experienced, but soon to be professional pilots! Includes the following two test banks:

Flight Engineer (Reciprocating, Turbojet, and Turboprop)
Airline Transport Pilot (Parts 121 and 135, both add-on and initial), plus Aircraft Dispatcher

| | | |
| --- | --- | --- |
| | | Pro Pilot Bundle |

| | |
| --- | --- |
| | For the Professional Pilot of the future! One of our best Value FAA written test prep packages. This is for those really focused on a career in aviation. This package includes both the Takeoff and FlightLevel Bundles combined. |

| | | |
| --- | --- | --- |
| | | Pro Pilot Bundle + Sport Pilot Bundle |

| | |
| --- | --- |
| | For the Professional Pilot of the future who also wants to operate in the dynamic Sport Pilot world! Our Best Value FAA written test prep package. This is for those really focused on a career in aviation but who also love it enough and want the 'future proofing' security of also getting a Sport Pilot license(s). This package everything from the Takeoff, Sport Pilot, and FlightLevel Bundles combined. |

| | | |
| --- | --- | --- |
| | | Aviation Mechanic A&P Bundle |

| | |
| --- | --- |
| | Complete preparation for the three written / knowledge tests (General, Airframe, and Powerplant) that you'll need to take and pass to get get an FAA A&P certificate. Includes access to all three A&P test banks. Please note: choosing this is the same as choosing a "pick 3" bundle above and then selecting the mechanic tests from there. |

| | | |
| --- | --- | --- |
| | | Remote Drone (UAS) Pilot |

| | | |
| --- | --- | --- |
| | Unlimited use of the app to prepare for your drone remote pilot in command initial and/or recurrent tests | |

| | | |
| --- | --- | --- |
| | | Military Competence (only) |

| | |
| --- | --- |
| | This is for purchasing the Military Competence test banks (Military Competence Airplane and Helicopter - MCA and MCH and/or Military Competence Instructor (MCI)) only. Purchase this option if you are a military pilot wishing to obtain your FAA civilian commercial pilot and/or flight instructor certificate(s) on the basis of your military experience. See the Military Competence page for full details. |

| | | |
| --- | --- | --- |
| | | Fundamentals of Instruction (only) |

| | |
| --- | --- |
| | This is for purchasing the prep for the Fundamentals of Instruction (FOI) test only. This is for people who are sure that they need ONLY the FOI prep. Most flight and ground instructor candidates should NOT get this, but rather the complete CFI test bank that includes all the flight/ground instructor tests plus the FOI. To be clear: any purchase that includes automatically includes at no extra charge, so that if you selected as a title either as a 'single test bank' or part of the pick 3 bundle, you'd get both CFI and FOI and it would only count as one test bank. This "FOI only" option here is at a lower price for those who know that they will only ever need FOI. |

"I just completed my FAA Private Pilot Airplane test at the US Air Force Academy Aero Club. I scored a 97%, thanks to your excellent test prep! I'll definitely be working through my Instrument Rating preparation with your GroundSchool." - JR (Private)
"I just wanted to take a moment and let you just how wonderful I feel your Ground School product is. After purchasing your app, for my Private Pilot Exam, I studied for about 5 days using your app, along with my training book that the flight school uses, and I am pleased to let you know that I passed my written exam with a score of 98%. I can't even begin to tell you how pleased I am with your product and how easy and effectively it was to use. I will definitely be buying other modules as my training progresses through Instrument and Commercial." - KH (Private)
""I am an Aviation Major at a top US university where I am consistently at the top of my class with the help of your software... Thanks for providing a great application at such a reasonable price!" - PZ "
"Hi Dauntless, Just an update for you guys. I took my test today 04/09/2004 and passed with a 98%. Thank you. I found your app very helpful for test practice. I like the way you can focus on a specific FAA subject categories until you feel confident in that subject then move on." - MB (Private)
"I scored a 97%. I missed two of 62 questions. GroundSchool is an excellent tool to prepare for the written test. Thanks!" - MC (Private)
"Overall, this is an excellent product and is a pleasure to use" - Review by FlightSim.com
"Thanks to the GroundSchool app, I got 59 out of 60 on the written exam. It was very helpful to have the latest FAA questions" - BF (Private)
"Just wanted you to know that I passed the PAR today (20 Jan 04) with a 95%. Virtually every question asked I had the opportunity to see prior to the actual test. This app is an excellent tool for preparation for the exam and when I am ready to continue my flight training for the instrument rating I will definitely being contacting you for the app. I would highly recommend GroundSchool to anyone who has the desire to prepare quickly, efficiently and effectively. Thanks again for your excellent product and I look forward to contacting you when I begin the instrument portion of my training." - LC (Private)
"Just to let you know that I passed my PAR test the other day, with a score in the 90's. I feel like your product did a lot to helping me achieve that. Additionally, when I had a question on the content your e-mail reply was fast, detailed and far better than I ever expected from a product ordered over the web! You guys do a great job, so keep it up, and I will be back to see you when I go for my next rating." - SV (Private)
"I'm very pleased to work with your program. You've done a very good job." - JCB (Private)
"I found your program to be very useful and have recommended it to many fellow students and will continue to do so. I am keeping your program loaded in my computer so that I may refresh my memory from time to time. Learning something new at my age (51), is not as easy as it used to be. I sincerely believe that your program was the single biggest factor in achieving my [high] test score. Many, many thanks." - JM (Private)
"Your GroundSchool software is the best! I used it to study for my Private Pilot written exam and I passed with a 90%. The emulation of the CATS software was a lifesaver, everything looked very familiar going into the test and it put me to ease right away. I just wanted to personally thank you for a great product and even better customer service! I have recommended you and this software to many people. Thank you for an awesome product! A very satisfied customer!" - JM (Private)
"I bought [GroundSchool Private Pilot]... It was wonderful, and I passed the private pilot written with the highest score my flight school has ever had." - LP (Private, now working on IFR)
"By the way, the program is EXCELLENT. Intend to use for future ratings when that day comes... Thanks!" - CC (Private (as yet!))
"Hi I just passed my written PAR. Thanks your software works great. It seems to be better than the actual test software from 'LaserGrade' for presentation and ease of use. My score is 95% with 3 wrong; 'LG' gave FAA subject codes of B08, H348 and I31. Using your SW I looked up those codes and found the questions I missed. 8553, 9014 and 8909. Now my instructor wont have to hunt and peck for the 3 questions, he's never happy. But I am. Thanks PS it took me about 3 weeks using the SW and reading, I went from middle 70s to the high 90s " - ML (Private)
[note regarding the above: LaserGrade™ is one of (essentially) two companies that actually gives the exam - they don't sell or make preparation / learning software). The actual test center software of either LaserGrade™ or CATS™ (the other company) are straightforward to use on the day of the exam, but not terribly well suited to learning. GroundSchool software features LaserGrade™ and CATS™ emulation modes so that you can see what the testing center software will look like before you get there!]
"I found [FAATest.com GroundSchool] software to be much more time effective for actually preparing for the test than [competitor's] DVD set. The DVDs had colorful animations, but of mostly simple things. With your software, I was able to really go through the material quickly and efficiently. " - SS (Private / IFR)
"I am very satisfied with the results (and cost) of your product." - JP (Private / IFR / Comm)
"100%!!! ... after studying for just two nights ... thanks!" - TP (Private)
"The explanations were very helpful... 98%." - LAF (Private)
"thanks to your software [I] passed my private written with a 100%" - JH (Private)
"I only used [GroundSchool] for learning the material needed for my test taking. The questions and answers were literally identical, making the test extremely easy to pass…. As for my results, I passed on the first attempt with a 97%!" - RW

The feedback keeps rolling in. Our users routinely score very highly on their knowledge tests. We invite you to be next. It's hard to say for sure, but we're confident within reasonable doubt that we have helped "hundreds get hundreds" with our software by this point. Check out even more user feedback.

Features include*:
Explanations written by professional pilots and flight instructors
Most tests (Airplane, Helicopter, Balloon, etc.) are covered
Plenty of study and testing options allowing you to personalize the software for your own most efficient study.
You can get an instructor signoff to take the actual written test through use of this software and our Online Endorsement Service.
The ability to explicitly flag questions which you find to be difficult
Lookup individual or groups of questions using a wide range of search criteria
Integrated Library of Aviation offering everything from PTS documents to FAA training publications to aircraft checklists and much, much more
LaserGrade™, CATS™, and AvTest 2000™ Emulation modes allow you to practice on the software as you will see it at the actual testing center.
Ability to load and save training / testing sessions
Printouts galore! Print out score reports to show your instructor, a "book" of questions for yourself to study on the road or elsewhere.
Something that is not really quantifiable or visible: fast, efficient study. The software has been designed to be quick so your time is spent preparing and learning, not flipping pages or clicking about needlessly.
* This list refers to features found in the MS-Windows™ PC versions of GroundSchool.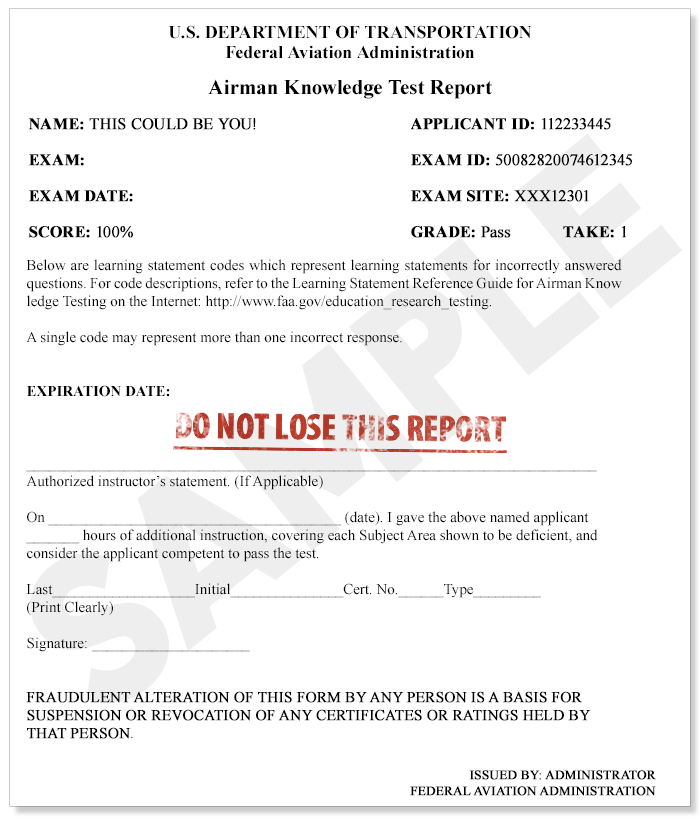 9/26/2017
Private Pilot Airplane (PAR)
9/30/2019
Thanks for checking out the software! Good luck on your test, and blue skies!

The FAATest.com Team