| | | |
| --- | --- | --- |
| | Safelog for iPhone (App Version) | |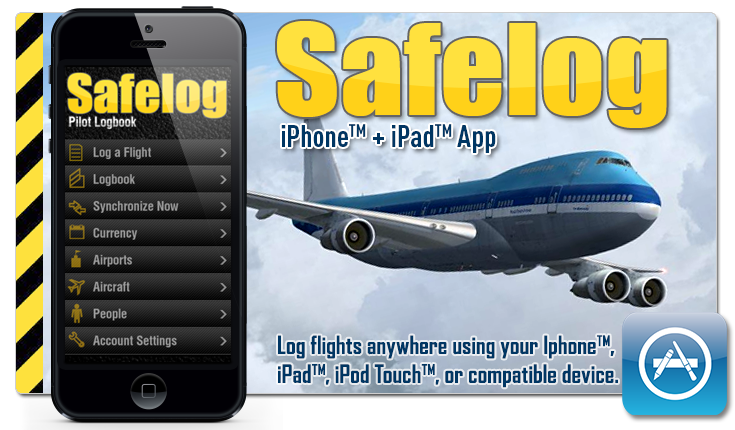 | | |
| --- | --- |
| | The Safelog Pilot Logbook system is available for iPhone™, iPad™ and compatible systems in two basic forms: an (offline) app that can be obtained via the iTunes AppStore™ (learn more about it by reading below), and a web portal version that can be accessed via your device's web browser. You can learn more about the web portal version by clicking here. There are advantages to each version; many pilots use both. Please carefully read through the pages associated with each version to determine which is best for you, and, if you have questions, we'll happy to help you via our online helpdesk. |
Safelog
Pilot Logbook App for iPhone™ and iPad™


The iOS™ apps on this page work great with your iPhone™, iPad™, iPod touch™, or other compatible device only - however, they are NOT intended for use with your PC or Mac.

Your iOS™ device is designed to get compatible apps from the iTunes AppStore™. You are welcome to obtain our iOS™ apps, therefore, uniquely from the iTunes AppStore-- just as is the case for all equivalent apps from all other companies eveywhere.

These iOS™ apps (programs) have been needed to be specifically designed, programmed, and tested (a process involving hundreds to thousands of hours and specialized skills and tools) to work on iOS™ devices and they certainly do work great on them. However, this also means that they work on iOS™ devices only--purchases made via the iTunes AppStore™ are not compatible with and will not work on, for example, your PC or Mac.

If you'd like to use a given app for both your iPhone / iPad / iPod and its equivalent piece of software for your PC or Mac (where one is available), as some people do in order to get 'the best of both worlds', you would need to purchase these separately. This 'a la carte' system ensures that you pay for only that which you intend to use and is fair to all involved. At any rate, it could not be differently due to Apple's sensible policy that its AppStore is for iOS apps only and effectively that no 'intermingling' is allowed.

We thank you for your understanding that we are obliged to follow all other software vendors in following Apple's policies in this regard.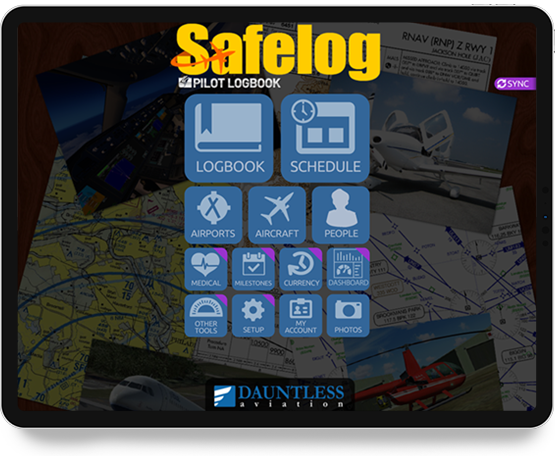 This app features three ways to capture signatures:

Built-in Signature Pad
Direct Camera support to scan signed documents
Select scanned images and documents already on your device

You can attach signatures, photos, documents, scans directly to any flight record
Signatures, photos, documents, and scans will synchronize nicely between all of your Safelog devices.
We're pleased to announce that the long-awaited Safelog for iPhone app is available, offering far more features than our competitors for a much lower price. However, we're not resting! Expect many free updates within the not too distant future that will add several requested features. Thank you for your patience and for continuing to make Safelog the world's most trusted pilot logbook system!

Is the Safelog for iPhone™/iPad™ App a standalone logbook product?

No it is not, but that's a good thing! While it is a 'standalone app' in the sense that it runs on your iOS™ (iPhone™, iPad™, iPod Touch™, etc.) device and does not require an Internet connection for basic tasks such as entering flights, this app is NOT a standalone pilot logbook system. Rather, it is a "mobile companion" piece to either the SafelogWeb.com online pilot logbook system or the Safelog PC app (or both). To use the app, you must have either an active Safelog PC license or Safelog Web account (or both). While you can log flights and use the software from anywhere, including where there is no internet connection, when you are somewhere where you do have an internet connection for your device, you will want to 'sync' the device with our servers (this is a simple matter of hitting the 'synchronize' button from the main menu) to send any changed data to our servers (from where it will automatically go to your SafelogWeb and/or SafelogPC accounts) and to have new data come down to your device. Think about it - it would be very dangerous to have your entire logbook on some app on your iPhone™ or similar device and nowhere else, as such devices are prone to loss, damage, failure, and theft. Rather, our app ensures that your data is maximally available and maximally secure. If you do not have a Safelog PC license yet, click here to learn more about Safelog PC. If you do not have a SafelogWeb account yet click here to learn more about SafelogWeb

What are the advantages of this 'app' version over the Safelog iPhone 'web portal?'

A few of the advantages include:

You do not need to be connected to the Internet to log flights. In theory, where the aviation and life situation makes it safe to do so, you could log flights using the app after shutting down your aircraft in a remote location where there is no Internet connection, and then have it 'sync' to your other Safelog products the next time you happen to have Internet available. This also means, for example, that if you fly internationally and don't want to pay for data roaming for your device, you can log while away and then sync when you're back in your home country.
You do not need to necessarily have a SafelogWeb account for the app to work (however, in that case you DO need a SafelogPC licenese).
It is a one-time purchase via the AppStore.

Do I need to have a subscription to SafelogWeb to use this iPhone™ / iPad&trade app version?

No, you don't! However, if you don't then you must have a Safelog for PC subscription. This app version will work with EITHER a SafelogWeb or Safelog PC subscription (or both).

How to sync Safelog PC with your iOS™ device: (note that these instructions are a bit long because they describe first-time synchronization - subsequent synchrnoization steps are simpler and faster.)

After you install the app from iTunes™ onto your iPhone™ or iPad™, start the app and click on the 'synchronize' button on your device. This will prompt you through setting up a free synchrnoization account if you don't have one already. Such an account exists to allow us to connect your iPhone™/iPad™ with your Safelog for PC copy.
Start Safelog PC. As you start the PC software, check to make sure that you have the latest version of Safelog for PC installed. If you don't, make sure you upgrade (remember, upgrades are free!) to the latest verson before you continue.
Once you're sure you have the latest version of Safelog PC, in Safelog PC go to the main screen, and hit the 'web sync' ('web synch') button at the top (above the main logbook view). This will prompt you to send your data to our servers and also to set up a synchronization account. Yes, you can do this without purchasing a SafelogWeb account.
Start the Safelog App on your iOS™ device. Provide the synchronization username/password that you set up above. This will be stored so you only enter this once.
Now, you can synchronize normally. To synchronize the iOS™ app, just click the 'Synchrnonize' button from the main menu.
To get the data down to the PC, click on the 'web sync' button again. In some versions, this may happen automatically for you at app startup.
Note: while you don't need a SafelogWeb subscription for this, adding a SafelogWeb subscription adds another layer of security and availability to your vital pilot logbook data. Plus, as an existing Safelog PC user, you get a big discount on adding a SafelogWeb account, so please do consider it!

How to Sync SafelogWeb with your iOS™ device:

Where it asks you for your synchronization credentials in the iOS™ app, enter your SafelogWeb username and password.
Use the 'synchronize' button in the app.
That's it!

I already have Safelog for PC and/or SafelogWeb. Will I have to re-enter my data into this app on my iPad™ / iPhone™?

Absolutely not! That's the beauty of the system. The iPhone™ / iPad™ app synchronizes with the other systems, meaning that you don't have to re-enter your data. All of the Safelog systems talk to each other, meaning that you enter your flight data in one place, and then, after an easy and automated synchgnoization process, you see it everywhere. If you are an existing Safelog for PC and/or SafelogWeb user, after you install the app on your device, soon after all your flight logbook data will be populated into the app on your device via such a synch process. You can have your logbook on the device and in your pocket in a matter of a few minutes after getting the app from the iTunes™ AppStore.

What are fields in the Safelog for iPhone™/iPad™ app like?

They are (essentially) exactly as they are in your PC and/or web copy of Safelog. The fields will configure themselves in the app to how you have thesm set and how you fly. This also means that the app is compatible with all world aviation logbook styles and regulatory regimes, including FAA, CAA/JAA, CASA (Australia), Transport Canada, and many more. There are currnetly pilots from over 100 countries using Safelog, and this includes everybody from beginning student pilots through senior airline, corporate, and military pilots.

Why can't I just connect my iPhone™ / iPad™ directly to my computer using a cable and synch that way? Why does it have to go 'accross the Internet?'

In short, this is a basic limitation of the iPhone™ / iPad™ Apple iOS™ platform. It's for all practical purposes impossible to do it any other way. Your iOS™ device is essentially only used to sync your device with iTunes™, and configuring Safelog to sync through iTunes™ would be exceptionally problematic and error-prone. The way we do things is recommended by Apple, industry-standard (all or essentially all apps that need to sync, and certanily all apps that need to sync as sophisticated data as we have with the logbook system do things as we do), reasonable future-proof, and robust. It works quite well indeed.

Will the graphics on my iPad be 'iPad sized?'

Yes! The app works in 'native size' for both iPhone and iPad. What's more, if you have both an iPad and an iPhone under the same iTunes account, you only have to buy the app once from the AppStore.

I have a question or comment ...

We're happy to hear from you and do our best to help via our helpdesk.

The Safelog iPhone App will configure itself to your logbook fields and settings and will work great whether you fly and log under FAA, JAA/CAA, Transport Canada, CASA (Australia), or any other aviation authority, worldwide rules. The following screenshots are just intended to give you a taste of what the app looks like on an iPhone. However, as we're constantly improving app, what you may see on the real thing may differ a bit from the screenshots.
Application is iPad friendly, check screenshots below (click on thumbnails to see real size images)


© 2014 Dauntless Aviation • 4950C York Road 110, Buckingham, PA, 18912, USA • Contact Us